Yoga ball cut in half on black flat platform, what is that piece of equipment called?
July 20, 2010 1:58 pm
Community Member
Bally's and 24 hour fitness who sponsor the biggest loser have a piece of equipment that looks like a yoga or balance ball that has been cut in half and put on a round black disk style platform that people can either stand on the ball side or flip it over to use it for balancing when doing upper body exercises. I can't figure out what this piece of equipment is called so that I can buy one. Does anyone know what it is called or where I can find one? Thanks!
July 20, 2010 2:14 pm
Community Member
Is this it?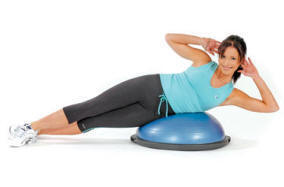 http://images.google.com/imgres?imgurl=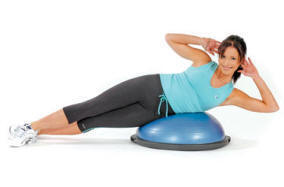 &imgrefurl= http://www.aokhealth.com/bosuoffer.htm&h=187&w=284&sz=7&hl=en&start=6&um=1&tbnid=ZPH0pol75AH8LM:&tbnh=75&tbnw=114&prev=/images%3Fq%3Dbalance%2Bball%26svnum%3D10%26um%3D1%26hl%3Den%26rls%3Dcom.microsoftIE-Address%26rlz%3D1I7ADBF%26sa%3DG
July 20, 2010 2:30 pm
Community Member
July 20, 2010 3:02 pm
Community Member
Bosu Ball!!
You can purchase one at..
-Linens 'n Things
-Dicks Sporting Goods
-Mostly any store that would carry a normal yoga/balance ball.
They usually run about $100.